Red Perilla Leaves (Shiso) Juice Recipe
Shiso juice is a light, bright, and refreshing drink that has many health benefits. Steeped from red perilla leaves, this juice has a magical quality that makes it fun to drink. Make sure to enjoy this drink on a hot summer's day!
What is Red Shiso juice?
In Japan, red shiso juice is made by steeping the leaves of the Perilla fructescens plant. The red perilla leaves contain anthocyanidins, which are responsible for giving the leaves their purple hue. When an acid of lemon or vinegar is added to the steeped liquid, it reacts and brings out the signature red color of the drink.
A bit of history
The perilla plant has a long history in East Asian countries (China, Japan, Korea, Vietnam, and India) as a culinary and medicinal herb. The plant has many varieties and is referred to by different names such as purple mint, beefsteak, and shiso to name a few. As far back as 500 A.D. this herb has been used to treat many ailments.
China is most likely where the Perilla fructescens plant originates from. There are many references to P. fructescens in their historical medical journals. The leaves, stem, and seeds have all been used in herbal remedies to treat such things as depression, anxiety, colds, fever, asthma, allergies, headache, etc.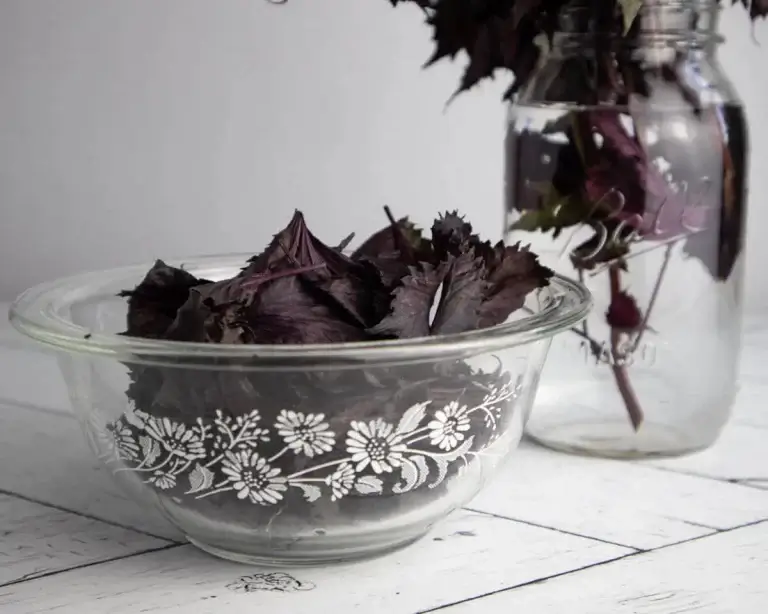 In the United States, perilla is considered a non native invasive weed. P. fructescens is a prolific grower and has been know to cause illness to live stock. For animals, it is mostly toxic when consumed late in summer as a hay or when the plant has gone to seed. Finally, it is not toxic in humans and scientists are recommending further research into its health benefits.
The P. fructescens plant is part of the mint family (Lamiaceae), comes in a green or purplish variety, and is somewhat related to basil. In cooking, people throughout East Asia have used the plant to make chutneys, curries, in wraps for rice or sushi, as a garnish, and a whole lot more.
Mise en place
Ingredients & recipe prep
Ingredients: Fresh red perilla leaves, sparkling water, acid (lemon or vinegar), and sugar to taste.
Cut: first harvest leaves from the perilla plant by cutting stems with about 6 to 8 leaves on them. Gather several bundles of cut stems. The excess leaves may be dried and used later.
Rinse: next, wash the cut bundles of perilla leaves by holding them under running water and pat dry.
Pick: take leaves off of stems and set aside; compost stems.
Heat: finally, in a 3 quart sauce pan heat 2 quarts of water to boiling.
How to make Red Perilla Leaves (Shiso) Juice
Steep: once the water has come to a boil, turn heat off and add the red perilla leaves to the pan. Cover the sauce pan and let the leaves steep for 30 minutes. The water will become a dark greenish brown.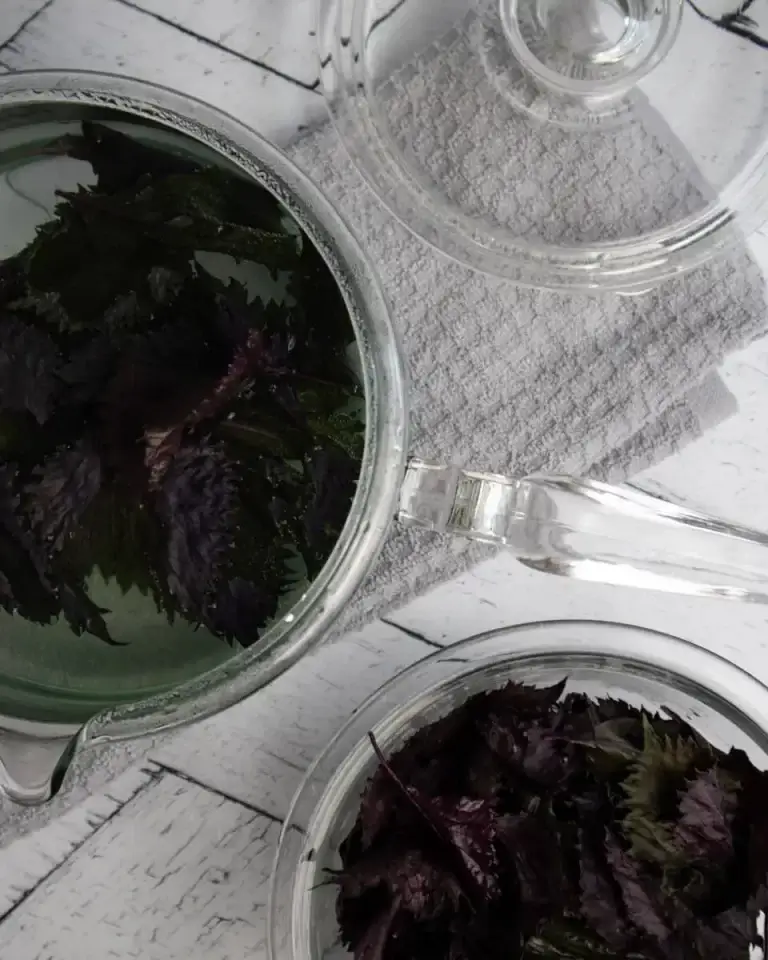 Strain: use a skimmer to remove the leaves from the sauce pan. Next, squeeze the leaves over the sauce pan to extract as much "juice" from the leaves as possible.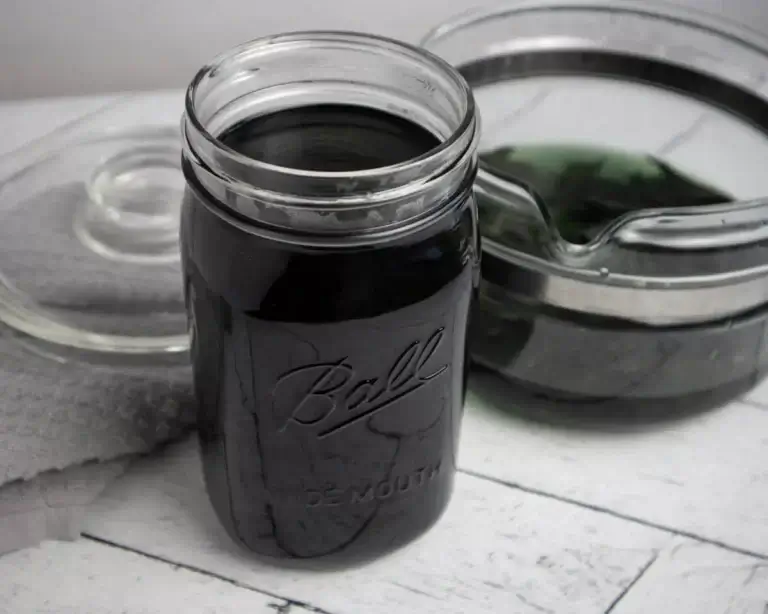 Make: at this point the liquid in the sauce pan is considered a shiso juice concentrate. To make the shiso drink, add 4 oz of concentrate to an 8 oz glass with ice. Next, add 1/2 oz of lemon or apple cider vinegar (or both) and watch your drink turn a pinkish/red hue!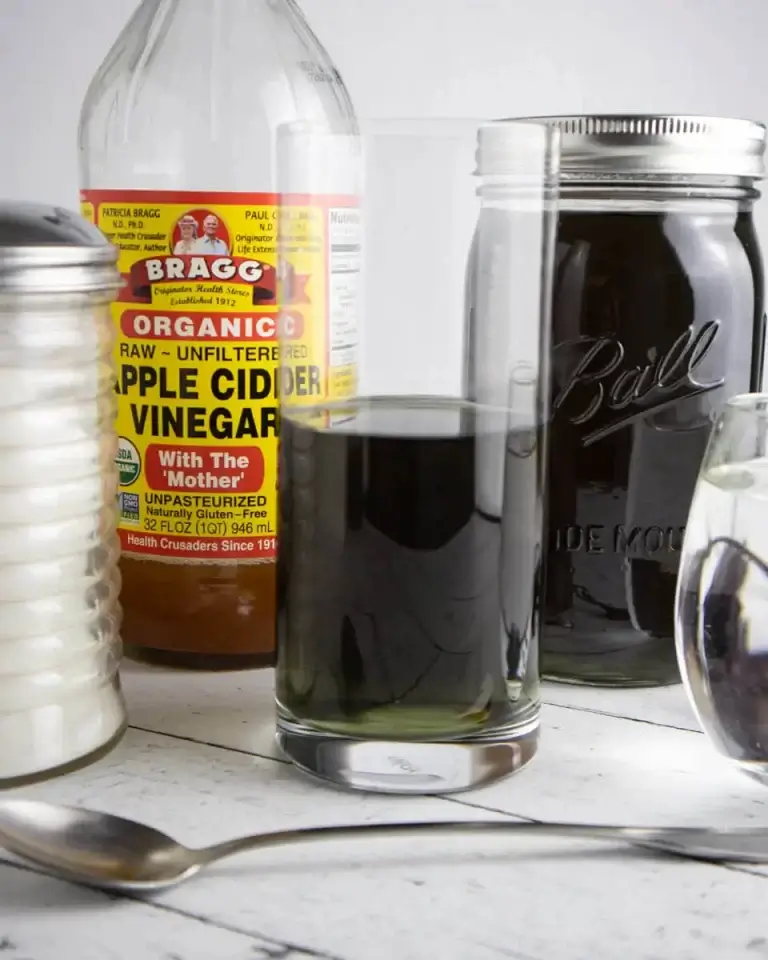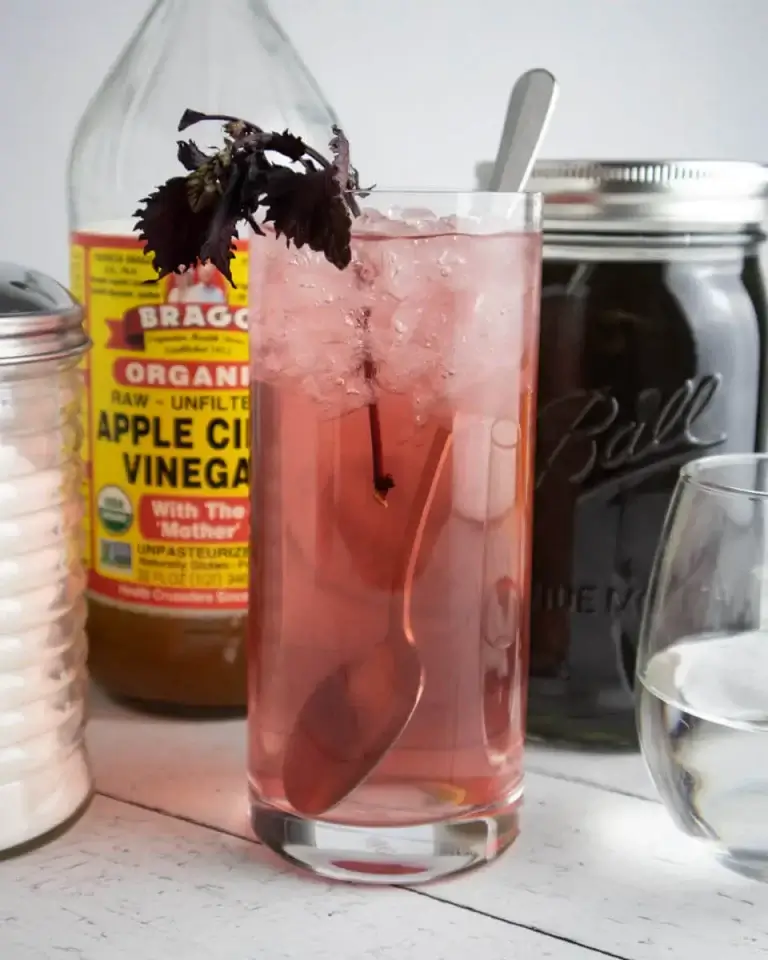 Sweeten: use the sweetener of your choice. Some options to use could be, honey, stevia, sugar, or agave. The amount of sweetener you use will depend on your preference. Finally, top glass off with sparkling water and enjoy!
Alternative:
Red perilla shiso juice can be enjoyed in various ways. One way could be to use other types of vinegar, like rice vinegar, to alter the flavor. Although, I prefer to just use lemon in the drink for more of a lemonade type feel. Finally, you could add some fresh cut strawberries and garnish with a mint sprig for fun!
Be sure to check out the full recipe and ingredient list below
Shiso juice tips & substitutions
Serve: Since this drink has a refreshing tang to it, I recommend enjoying it with a hearty salad and fresh fruit. It could also be a great drink to be sipping on throughout the day!
Substitutions: When creating your beverage, there are some creative alternatives you could try! Why not make it a cocktail?
Red Shiso Vodka Tonic
4 ounces red shiso concentrate
1.5 ounces vodka
0.5 ounces lemon juice
0.5 ounces simple syrup
tonic water
Combine ingredients above in a cocktail shaker with 6 ounces of ice. Shake until shaker is frosty. Strain and open pour drink and ice into a highball glass to take this drink to a whole new level! Lastly, top off drink with tonic water.
Finally, for a new flavor twist try different acids like lime or grapefruit juice instead of lemon or apple cider vinegar.
Red Perilla leaves: FAQ's
Can you eat red perilla leaves?
Yes, the purplish leaves of the P. fructescens are edible and easy to cook with. The younger leaves are prepared and eaten like a vegetable, while the older leaves are used as a garnish.
What does red shiso juice taste like?
The taste can depend on what you put in your drink. It can have a more sweet citrus flavor when using lemons to an almost tangy taste if using vinegar. Overall, the shiso juice tastes fresh and crisp with an herbal tea finish.
How long does shiso juice last?
Shiso juice is so tasty to drink that it might not last that long. However, if you have extra prepared juice (with sugar), it will keep fresh for a week or so in the refrigerator. If you make Red Shiso concentrate, then it will keep for months covered in the refrigerator. I prefer making and keeping the concentrate, so I have the flexibility to try new flavor combinations!
Check out:
More cocktail drink ideas
One Last Tip: Red shiso juice concentrate keeps well frozen for many months. This is a great idea if you harvest a lot of shiso leaves at once.
Red Shiso Juice Recipe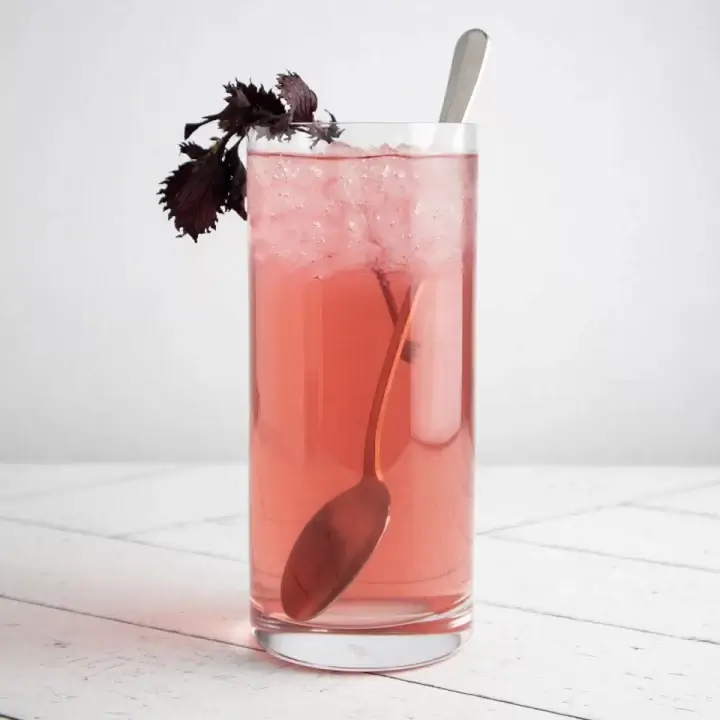 Red Shiso Juice
A bright, crisp, refreshing, and healthy drink to enjoy on a hot summer day!
Ingredients
16 ounces Shiso leaves
4 ounces sparkling water
1/2 ounce lemon juice or apple cider vinegar
Sweetener of choice
Instructions
1. Rinse shiso leaves and pat dry; then pick leaves off of the stems; set aside.
2. Bring 2 quarts of water to a boil in a 3 quart sauce pan.
3. Add leaves once water is boiling. Turn heat off, cover, and let steep for about 30 minutes.
4. Once steeped, use a skimmer to remove the leaves. Squeeze leaves over sauce pan to extract all the leaves "juice".
5. At this point, you have a dark greenish liquid shiso concentrate. Let cool for 5 minutes.
6. To make an individual drink, fill an 8 oz glass with ice and pour 4 ounces of shiso concentrate in.
7. Add the lemon juice or apple cider vinegar and watch the concentrate turn pinkish/red in color.
8. Use sweetener of choice to prepare your drink just like you would for an ice tea drink. Stir to dissolve.
9. Top drink with sparkling water; serve and enjoy!
Notes
You can customize this drink in several ways. For a stronger shiso flavor, steep more leaves or add more concentrate to the glass and use less sparkling water. The flavor can change based on the acid (lemon, vinegar, lime, grapefruit) and the amount of sweetener you use.