Classic Red Wine Cocktail: The Bishop
The Bishop is a sinfully simple red wine cocktail that surely will become one of your favorites. It sings of sweet citrus and warm spices. Enjoy this versatile beverage warm like a mulled wine or cold like a simple sangria at any time of the year!
What is a Bishop wine cocktail?
The Bishop is a delightful and refreshing spiced red wine cocktail that has undergone many transformations through the years. In most recipes found on the web, the common ingredients are wine, citrus, and spices. There are also numerous recipes that include rum to give the cocktail a bit more flavor and strength.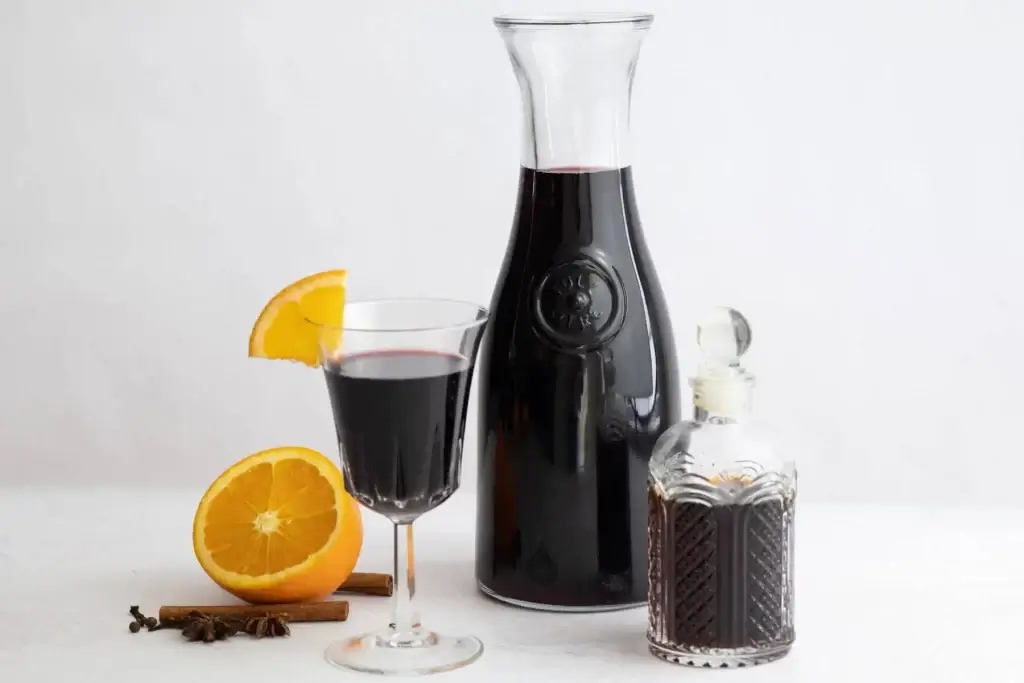 A bit of history
In early cookery/cocktail books several versions of a drink can be found with slight variations in the name and in ingredients. I found this to be true in The Bartender's Guide by Jerry Thomas (1862), as he lists six versions of a Bishop. One recipe (#183) uses lemons and adds either Santa Cruz or Jamaican rum and is referred to as a Bishop Protestant.
I then came across a 19th century recipe for a Bishop in, The Cook's Own Book by Mrs. N.K.M Lee, a Boston Housekeeper (1832), that is more reminiscent of a mulled wine or sangria that just lacks spices. I believe Jerry Thomas must have found this recipe too, as another Bishop (#178) recipe in his book is very similar.
Eliza Leslie also adapted the Bishop to create a simple red wine cocktail as seen in her book, Directions for Cookery, in its Various Branches (1858). This recipe piqued my interest as she uses nutmeg as one of her spices instead of allspice and cuts the oranges after roasting.
I truly enjoy the Bishop version with oranges and came across a couplet by Gulliver's Travels author Jonathan Swift (1667-1745) and he's singing their praises too.
It seems likely that the Bishop has been around for a long time and its roots could be linked back to the church. Other Bishop versions use different wines and then classify them as clergy appointments like an Archbishop, Cardinal, or Pope.
In my opinion, the recipe by the Boston housekeeper is a brilliant base for making endless red wine cocktail variations! Whatever version of the Bishop you choose, making the cocktail is incredibly easy.
Allspice dram in a Bishop
In The Cook's Own Book, I also came across a recipe for a Tincture of Allspice which mentions it to be a wonderful addition to a Bishop. A Tincture of Allspice is a variation on the popular allspice dram cocktail modifier used during the 20th century Tiki influence.
Combining the two recipes by the Boston housekeeper has made the most wonderful red wine cocktail. The recipe can easily be doubled when serving a large crowd. You will enjoy the Bishop at the dinner table or on the front porch, although, I highly recommend enjoying it with friends as this makes an excellent punch!
Mise en Place:
Ingredients & recipe prep
Ingredients: gather four oranges, 1/2 cup of sugar, bottle of Cabernet Sauvignon, and allspice dram.
Equipment: gather parchment paper, baking sheet or pan, stock pot, measuring cups, wine opener, juice squeezer, a bowl, sieve, wine glasses and soup tureen and/or a glass carafe.
Prep: There is not too much preparation before starting this recipe. First, preheat the oven to 300 degrees. Next, wash and pat dry the oranges. Then open the wine bottle and pour out 12 ounces; cork and set aside the rest of the wine.
Tools you'll need
This post contains affiliate links. I may earn compensation from qualifying purchases at no additional cost to you. I will not recommend products that I don't trust the source or have used personally.
How to make a Bishop cocktail
Roast the oranges. Make sure to clean the fruit, remove any store stickers and pat dry. Place on a parchment lined baking sheet or pan and roast till pale brown color appears. Approximately 60 minutes at 300 degrees and rotate half way through.
Sugar the oranges. Remove oranges from the oven and place in a large bowl. Score the tops, pour sugar over the oranges, add the wine, and let sit covered for 24 hours. The Boston housekeeper's recipe says to use three glasses of claret wine. Claret is the British term for a Bordeaux wine like a Cabernet Sauvignon. As found in Imbibe by David Wondrich (p.76, 2007), a wineglass or claret glass in the 19th century would have held 4 ounces, therefore pour 12 ounces of your favorite cab over the oranges.
Juice the oranges. The next day squeeze the oranges, strain the juice through a sieve, and set aside in a bowl. Reserve the sugared wine from the stock pot that the oranges were in.
Simmer the wine and juice. For a mulled wine cocktail, add the rest of the bottle of wine to the reserved sugared wine in the stock pot. Slowly bring the wine to almost a boil. You know it is done when you see vapors begin to rise. Many refer to this as a Smoking Bishop as Charles Dickins did in his classic novel, A Christmas Carol (1843).
Combine the allspice dram. Remove wine from heat and let cool for about 5-10 minutes. Then add the squeezed orange juice and 1/2 ounce of allspice dram. Stir to combine and enjoy!
Alternative:
For a sangria type cocktail, skip the simmering directions above. After 24 hours, simply combine the rest of the bottle of wine, the reserved sugar wine, juice from the oranges, and 1/2 ounce of allspice dram. Stir to combine, put in a glass carafe, add cut fruit (optional), and refrigerate for at least an hour before serving.
Be sure to check out the full recipe and ingredient list below
Bishop red wine cocktail: tips & substitutions
Serve warm or cold. When serving to a crowd, pour wine into a soup tureen or punch bowl. If serving more like a sangria, slice up fresh oranges and apples to add to the tureen. Use punch or wineglasses for guests to use.
Next level. Have on hand brandy or rum. Let guests fortify their Bishops if they are looking for a little more kick. If you are enjoying the Bishop solo, keep the wine in a glass carafe, store in the fridge, and consume within 3 to 5 days.
The Bishop: FAQ's
What is the best red wine to use in a Bishop cocktail?
For a Bishop wine cocktail, a claret is recommended. Claret is a British term for a Bordeaux wine. Therefore, a good wine to use would be a Cabernet Sauvignon.
What alcohol can you mix with red wine?
In making a Bishop red wine cocktail, rum or brandy combine well with the wine. Historically, red wine sangrias are typically known for containing brandy as are mulled wines.
How long does the Bishop red wine cocktail last?
If somehow you have leftovers of this delicious punch, then keep it in a covered glass carafe. It will keep fresh for 3 to 5 days in the refrigerator.
Check out:
More allspice dram cocktails
One Last Tip:  If you can't find bitter oranges (Seville) in the store, you can try this substitute. Use a lemon or play around with other citrus to see what flavor you like. I prefer more of a sweet orange flavor, so I used only regular oranges (navel) and the Bishop tasted great!
Recipe for a Bishop red wine cocktail
Modern take on a Bishop: a 19th century red wine cocktail similar to a mulled wine or sangria
Total Time
1 day
15 minutes
Ingredients
750 ml bottle of Cabernet Sauvignon
4 bitter oranges
1 /2 cup of sugar
Instructions
1. Preheat oven to 300 degrees
2. Wash oranges and place on parchment lined baking sheet
3. Roast oranges for 60 minutes or until they are pale/brown; rotate halfway through
4. Place roasted oranges in a bowl; score tops; pour sugar and 12 oz. of wine over oranges
5. Cover bowl and let oranges sit for 24 hrs
6. Remove oranges from bowl and juice them; set aside juice; reserve liquid from bowl
7. Add remaining wine and reserved liquid from bowl to stock pot
8. Bring wine to almost a boil; remove from heat when vapors rise; let cool 5-10 minutes
9. Add orange juice and allspice dram; stir to combine
10. Serve warm in punch glasses or serve cold in wine glasses.
Notes
If serving to a group, double the recipe as this makes a fine punch. Add cut oranges and apples when serving cold like a sangria and keep in the refrigerator for at least an hour before serving. The Bishop will keep fresh 3-5 days in the refrigerator.